Alpha Phi Omega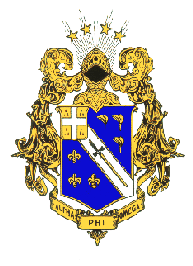 (our coat of arms)
So, I have finally decided to do something with this page. This is the community service fraternity organization that I have decided to join, and I must say that it's been a blast for most of the time that I've been here. Our four area's of service are 1) community, 2) campus, 3) college, 4) nation as participating citizens. Alpha Phi Omega was build in the principles of Leadership, Friendship, Service, and the Scouting Oath Law.
The APO Gamma Chapter Home Page can be found here. I was the Webmaster for the Spring of 1999, but I've passed it onto Will Stokes. Since then, I have been inducted as President of the fraternity for the year 2000-2001.
If you want to jump to pictures, then click here for my small collection.
Read the Role Call I wrote for our pledge class, Spring 1999.
Ok, I figured I'd give a brief description of some of the important people I know in the fraternity: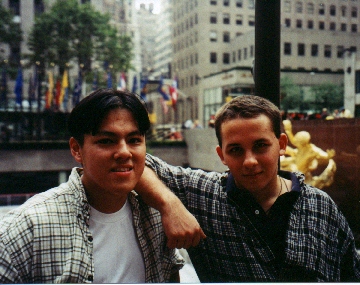 Phillip Troy Smith: Well, I guess to me it's obvious that he's the first one I should name. First thing that sorta clicked our friendship was out icq names. Him being Chivalry and me being Pendragon, it was just weird coincidence. We got to be best buddies, and he considers me one of his brothers. He was the one who got me to call certain other people "brothers" and "sisters," so I'm working on a surrogate family, which is currently 2 people large for Cornell and 5 people back home. Something Phill (notice the 2 l's) really struck a nerve in my head which I didn't notice till a few hours after he had said it: "I believe I consider some people my brothers even though they don't feel the same way for me." Well, I definitely know that's true. Just wanted to say that I hope it's not the case, but you're my best friend here Chiv. Hope I can trust ya p #1 (I'm p #2).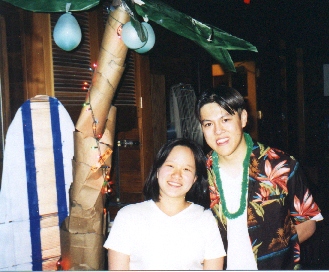 Katherine Ching Chin: Well, I guess you could say she is my "sister" at Cornell, and like the Buster/Babs Bunny of Tiny Toons, no relation. I know we've had our battles and stuff, but through it all, she's cool shit, especially for a little asian girl :) I'll be spending a lot of time with her since we are both ChemE students. There is a picture of her in the Cornell section of my page. She's my lifting partner, though sometimes I think that I need to get someone bigger (ie. someone who I can't bench press their weight :) I must say that she's Chin #2 (I'm Chin #1)


Bonnie Catherine Puckett: Well, this is a tough one to describe. So after listening to her complain to me, I have decided to take off the comment that I called her a bitch :) I guess she really isn't. She was in my pledge group, though I must say that I still DON'T like working with kids, even if it's packing their stuff. I must say though that her obsession with Kevin Spacey does scare me :)

Jonathon Azevedo: Fellow Massachusetts friend, though he calls water fountains "bubblers." What a freak, though what can you expect from the hick south side of Massachusetts (j/k!!!) He's a great kid, gives me rides to Wegmans, and I will be sleeping on his couch for a week. I'll spell your name right on the APO web page eventually :)


Jennifer Lynne Reedy: My housemate for the spring of my junior year. She's a Vestal girl (one of the six in Alpha Phi Omega), and one of the closest girls I know. We'd listen to each other complain (or I would fall asleep as often the case.) Congratulations and good luck at Duke Medical School, and please keep in touch.
Kenneth Benjamin Meyer: Got the looks and personality of a politician. Thanks for letting me borrowing your super-soaker :) You've got the makings of a principal (teehee), but seriously folks, underneath those quiet facades is an ebonics master. Just watch out, or he'll get his freakish roommate Vlad to bug you or something to that effect.


Nicholas Anthony Pesola: Wow, can you say weird? I never erally expected to put this kid on the page, but I guess after spending a whole semester together in the APO office, I've grown to know this kid WAY too well from all the storires that he's told. Geez, don't you ever shut up about yourself Nick? (j/k!!) Anyhow, I hope everything turns out for the best after college, kiddo.

Pamela Lynn Pedersen: She's another Massachusettite, from the western side. She also calls them "bubblers." I guess only the north is not hickish :) She's a meterology major (teehee), but beside's that she's a cool person to hang out with. House of Babes rules!!!!