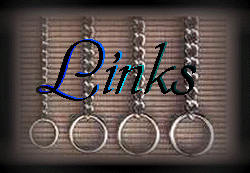 FRIENDS HOME PAGES
Burlington Crew
Calvin Ho: Not even a home page, but whatever.
Chad Parmet: Friend back home. Not really a page either.
Nora Tykler: Friend from home, currently at BU.
(REMS)2
Michelle Eaton: Friend from (REMS)2
Matt Bolduc: Also a friend from (REMS)2
Sarah Calhoun: Ditto. Senior Year prom date :)
APOers
Eric Schatz: APO friend who now goes to Stoneybrook.
Bonnie Puckett: Fellow APOer in my pledge group. Her page sucks :p (j/k ok kiddo?)
Katherine Chin: Fellow ChemE. She knows my pain. My first true sister at Cornell.
Phill Smith: ROTC Material Science major I met via Katherine. My first true brother at Cornell.
Sean Campbell: V.P. Membership the semester I pledged, ILR student. Going to be working on Wall Street, nice job.
Alex Szeto: ILR student and writer of "Slightly More Random."
Pamela Pedersen: Fellow Massachusettite. Meterology major (teehee)
Jon Azevedo: CEE major. Also fellow Massachusettite, though he calls water fountains "bubblers." Freak.
Ben Ragheb: Sperry 4th Floor represent!! Freakish CS major, Current NSR editor.
Will Stokes: Passed the buck (errr........Webmastership) to him. CS major also.
Marci Ganz: Graduating ORIE Masters of Engineering. Cool gal who can swing dance.
Cornell
Albert Presto: Both my godfather and sponser in Catholicism. Odd, but a nice kid.
Jessvin Thomas: Good friend from freshman year. Visit his CU Starcraft page also.
Jacob Wentworth: Sperry One buddy. Co-creator of the Big Red Clan.
Jeremy Kubica: Well, Jeremy is just, uh, Jeremy. Cool kid.
Ted Kim: Ditto :)
Andrew Hammer: ROTC freak, lived with him freshman year.
Jeremy Schreiber: EE friend who finally got a page up and running!!
Paul Jensen: Look at his shitty page and laugh.
Dan Dickson: Sperry Three antisocial person.
Dan Jacobs: Friend from freshman year of college.
Grant Wang: Ditto.
Other
Jeff Lands: Co-creator of the quake clan Dragonlance [DL]

CORNELL LINKS
Last Call: A Cornell A cappella group that I tried out for. Apparently I have no talent, but they do.
Dragon Day: A well known tradition at Cornell. If you want to know more, well just look it up then.
College of Chemical Engineering: Home of my personal hell.
Cornell University: Where I go to college. General Info.
CU Swing: The home page of my old Jitterbug teacher at Cornell
Ithaca Swing: The home page of my current Lindy Hop teacher.
Alpha Phi Omega: My fraternity's home page. Ex-webmaster. Come look at the shitty job I've done.

COMICS
Calvin and Hobbes: An essential.
Doonesbury: My second favorite comics.
Foxtrot: Props to Bill Amend for creating such a funny page.
Non-Sequitur: An even funnier comic. I love political humor.
Dilbert: Don't even have to get into it. Who doesn't like this comic?
Robotman: Ok, this is one weird comic, but it's still funny.

Miscellaneous
Boston Globe Online: My hometown newpaper. They have some great columnists, like Mike Barnicle (no longer a contributor) and Alex Beam.
Hotmail: Free e-mail.
WFNX: "One of the top ten radio stations rated by Rolling Stone magazine that doesn't suck, and the only one in Boston."
Keirsey Test: Find out what kind of personality you are.
Buffy Cross and Stake: The BEST damn page I've seen that chronicles the t.v. show Buffy the Vampire Slayer.