Air Products and Chemicals, Incorporated
Air Products' headquarters is located in Allentown, PA. During the fall semester 1999, I worked in the Process Safety (EH&S) division of Corporate Engineering. During the summer of 2000, I co-oped at their emulsions plant in South Brunswick, NJ. I must say, the work experience I received was unbelievable. You can visit their web site at http://www.airproducts.com.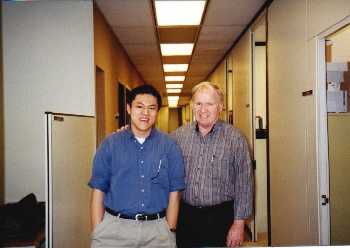 During the fall semester, I had two great bosses, Robert Linney and Mike McHale (shown on left, bad picture). I learned a lot from those two, and those in the Corporate Engineering department. Thanks all.
More importantly though, I've met some of the coolest people I know in Allentown. Mohamed El-Naggar, Jennifer Dickensheets, Daryl Callan, Randy Lewis, Heather Myers, Jessica Macke, and Albert Presto, thanks for the great memories. Unfortunately, I don't have any pictures of my lunch group during the fall semester, maybe I can get some this summer.
Here's a stack of pictures for you all of you to look at (sorry it's on another frame, but I didn't know how else to do it.)